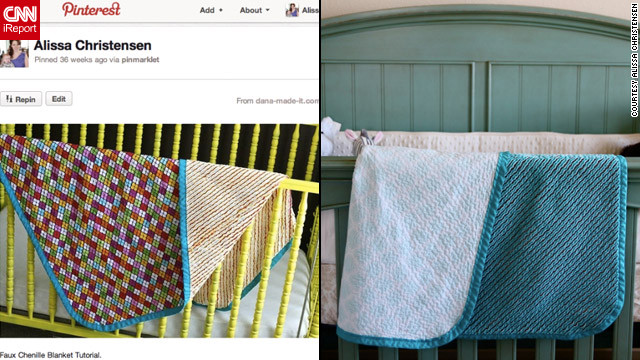 Alissa Christensen says she's learned to sew, quilt and crochet by finding tutorials through Pinterest (left). The Las Vegas, Nevada, stay-at-home mom has used the site to find all kinds of things to create for her baby son, like
this blanket
(right). She says it was the first thing she ever sewed.
hats for her baby
and all the other young boys in her extended family.
After learning to crochet via a tutorial she found through Pinterest, Christensen made these
pink ruffle cake
, prompted by a technique she learned via Pinterest, was for her 24th birthday.
Christensen creates plenty of Pinterest-inspired items for her son -- but occasionally does a little something for herself. This gorgeous
recreate it
, and then blog about it. "I usually browse Pinterest during the week when I need a break, have an idea or I am hosting a dinner/party. I usually pick a project or two, make it during the weekend and then I blog about it later," she said.
Like Ishmael, Julie Brackeva-Phillips likes to choose a project via Pinterest,
this necklace
in January thanks to a tutorial she found through the site and has already worn it to work.
"Pinterest helped me make my first piece of jewelry," says Mikinzie Stuart. She created
redecorating project
this month. "I'm a habitual list maker, so having a site where I can keep ideas is convenient and inspiring," she said of the site.
Kara Kriegshauser used Pinterest to gather inspiration for her home office renovation. She completed the
planted in a book
. The original directions called for fake plants, but she experimented and found a way to use real ones!
Jessica Wolkoff modified a project she found via Pinterest to create this stunning centerpiece of a succulent
Pinterest-inspired project
looked simple, but Katie Rudder said it ended up taking forever. Still, "I'm so proud of it and people have pinned it from my step by step website now," she said.
This
industrial-looking lamp
after gathering a bunch of similar lamps on a pinboard. "After gathering several other pipe lamp images on my board, I couldn't stand not trying my hand at building one myself. So, I made a trip to Home Depot and bought the parts I wanted and put it all together," he said. Reynolds had only been on Pinterest for about a week at the time. "I've never been much of a person who cut things out of magazines...so, as a person who embraces tech, Pinterest was a great fit," he said.
And Pinterest-prompted projects aren't just for the girls! Tim Reynolds built this
rocket packs
for her sons after finding inspiration on Pinterest. She says her boys "both think Detroit's Renaissance Center is huge space ship, so I figured this project would be the perfect time to 'blast off' to the top of it." The rockets are made of spray-painted soda bottles!
Jessica Archer created these
Nutella-banana popsicle
recipe. "The pretty picture of Nutella popsicles on Pinterest made it seem so easy," she said. But the recipe turned out to be a little messier than expected, although still delicious. "Sometimes, even when they're messy, Pinterest tips and recipes are so very, very right," she added.
Colleen Pence had a bit of a tough time recreating this
rainy day Christmas craft
she did with her daughters and a friend.
Beth McShane uses Pinterest not only to catalog her crafting ideas, but also as part of her job in the event planning business. "I love sending clients into my event boards to gauge their taste and get on the same page as far as the overall feel they want their event to have," she said. These stars were a
Baby blanket
Crocheted hats
Ruffle cake
Peanut butter cupcakes
Pumpkin cream cheese bread
Pearl cluster necklace
Home office makeover
Book planter
Rhinestone monogram
Industrial lamp
Rocket packs
Nutella-banana popsicles
Paper stars